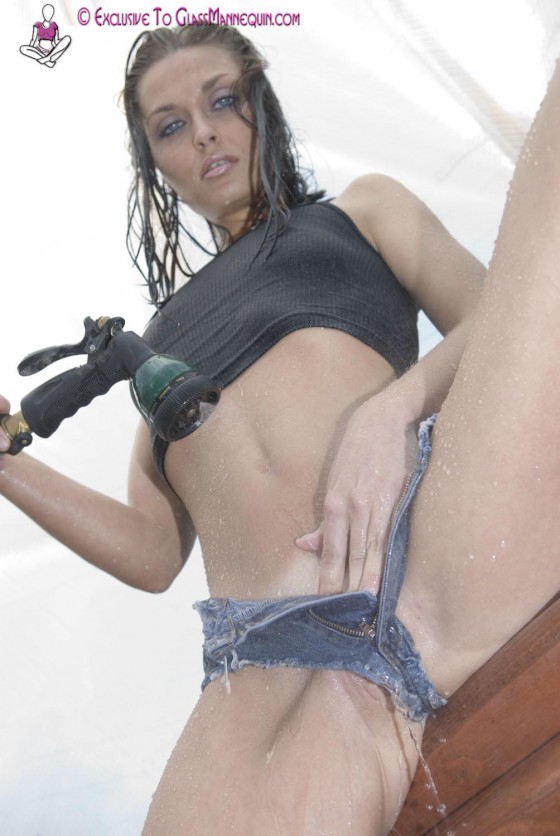 Tasha Burke of Real Colorado Girls is one sexy Milf and this little bitch knows it. She loves sucking a fat dick or eating a sweet juicy pussy or if shes really horny both at once,  but this naughty girl loves her alone time as well. It gives this sexy ass Milf time to pamper her own pussy teasing the camera with her come fuck me eyes is not very hard for this slut because to this horny bitch the tease is the best part. To see Tasha tease more download full video
Dripping wet is an understatement for this hot Milf. Playing in the garden must be hard work because this sexy Colorado girl had to let the cold water run down  her tight hard body just to cool off,  making this bitches nipples hard enough to cut glass. With Tasha's pussy all hot the cold water must of felt great running down her pink pussy soaking her torn cut off shorts.
Who need clothes??? Not this Colorado girl. All wet from playing in the water and not wanting to run around in wet clothes, It wasn't long till this sexy Milf was butt ass naked in the garden playing with the giant water hose. All wet and wanting more then just a wet pussy, this sexy bitch is soon stuffing her tight shaved cunt with a Glass Mannequin dildo. to see this Real Colorado Girl finish fucking her sweet pussy download full video.
To see more of  Tasha Burke  join Real Colorado Girls and have complete access to two more awesome porn sites…Completely free. Glass Mannequin and Bring Me Your Sister